Using Knowledge Front's HTTP monitoring service is a simple, reliable and trusted way to externally monitor your websites. Our clients use the HTTP monitor to keep a close watch on their businesses' websites hosted in a variety of environments:
on-premise data centers
3rd party colocation sites
PaaS providers such as Heroku and Google App Engine
IaaS providers such as Amazon EC2, Rackspace, and Linode
Externally monitoring your websites provides insight into the responsiveness of your site from your customer's perspective. The service provides the confidence in knowing that your support staff will immediately be notified of any service disruptions.
This tutorial will demonstrate how you can get a new HTTP monitor and alert configured in a few minutes. Our motto is "don't wait to be proactive"… it doesn't take much to go from not knowing about issues with your site to knowing immediately!
After logging into the Knowledge Front dashboard you can add a new monitor using the guided process found under "Monitor Settings" -> "Add a Monitor":

To start monitoring your web site we'll elect to use the "Basic HTTP monitor" from the growing list of monitors that Knowledge Front provides:

The basic inputs into the HTTP monitor are:
Name of the monitor
Testing interval
Time zone
URL of the site/resource to monitor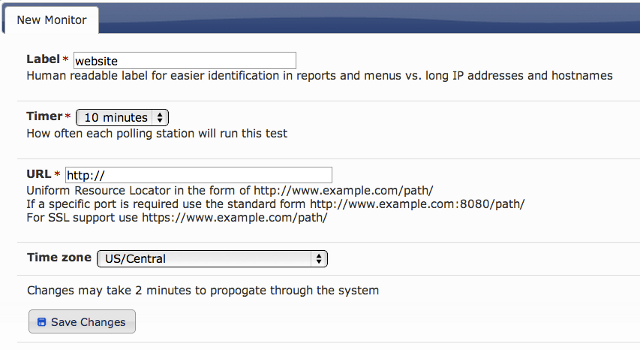 When you're finished with the HTTP monitor configuration you can test the monitor to receive immediate feedback, ensuring Knowledge Front's monitoring stations can reach your URL:

Next step, add an alert for your new monitor to receive immediate notifications of any service disruption:

In this example, we'd like to know when our website is down and then back up:

For every monitor you can specify an alert destination (e-mail, SMS) for the alert notifications:
You have the freedom to customize the subject and message an alert will send for both the "Down" and "Up" alerts: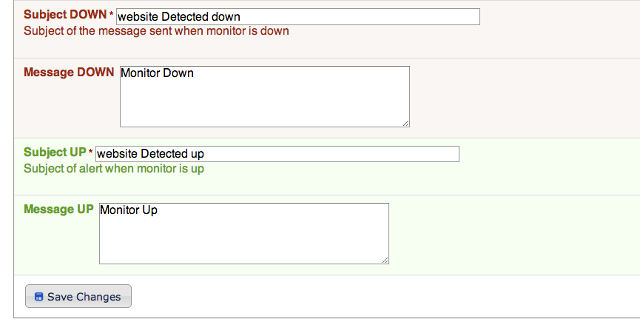 If the HTTP monitor fails to reach your website, the "Down" alert you configured will trigger and send an immediate notification to your specified destination. In this example, we received a simple "Down" e-mail:

You can also view the monitor failures from the monitoring dashboard: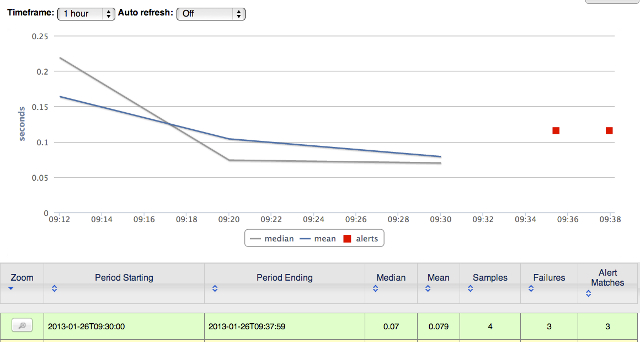 Once your website is back on-line and service is restored, the HTTP monitor will confirm by sending the "Up" alert you configured to your specific destination. In this case, we are receiving a simple "Up" e-mail:

You should be able to refresh the monitor dashboard to see the latest graph, including the successful attempts to reach your website: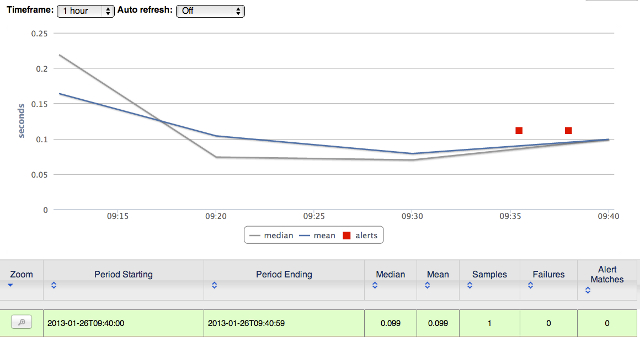 Knowledge Front's HTTP monitor can be used to watch over any number of your businesses' web services:
SaaS applications
Marketing and sales websites
Web-based APIs
For more information, please check out our HTTP monitoring help page at: http://www.knowledgefront.com/help/monitor/http.html
Or get in touch with us! We love talking about monitoring.
Knowledge Front Team